Beatmap Listing » Hige Driver join. SELEN - DADADADADADADADADADA (Long Version)
Artist:
Hige Driver join. SELEN
Circle Size:

Approach Rate:

Title:
DADADADADADADADADADA (Long Version)
HP Drain:

Star Difficulty:

(10.04)
Creator:
Lokovodo
Accuracy:

Length:
3:34 (3:09 drain)
Source:
REFLEC BEAT groovin'!!
Genre:
Unspecified (Other)
BPM:
156
Tags:
User Rating:
Success Rate:
Points of Failure:


(graph is accumulative, based on % at fail/retry)

6.9% (2655 of 38214 plays)

Submitted:
Loved:
Mar 20, 2015
Jul 24, 2018
Rating Spread:

Favourited 828 times in total

Users that love this map: setsuna91, robodogkid, RetiaAdolf, _Darwin, showgood163, PokemasterBrian, hoiakma4310, Green NPC, Accel World, Nikarobin1, NekoFunfo, TaliNation, asdfgxh, DrSchlong, Wojowu, TheMati117, bruce2585, mantibab, -jessieh-, YuriMomo and many more!
Options:
Modding / Discussion
This map is in a LOVED state.
As such, it will not award any pp and leaderboards may be reset by the beatmap creator.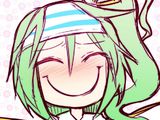 Going for Loved status as of 10/12/2017. Please spread the word so people can drop kodosu on this to make the process go by faster.
DADADADADADADADADADA
Riviclia
has done it, he has done what looked impossible.
itsamemarioo is in the lead! ()
Score
2,722,840 (76.45%)
Max Combo
260
300 / 100 / 50
863 / 251 / 22
Misses
107
Geki (Elite Beat!)
103
Katu (Beat!)
103
Mods
None
Top 50 Scoreboard
| | Rank | Score | Accuracy | Player | Max Combo | 300 / 100 / 50 | Geki | Katu | Misses | Mods | |
| --- | --- | --- | --- | --- | --- | --- | --- | --- | --- | --- | --- |
| #1 | | 2,722,840 | 76.45% | itsamemarioo | 260 | 863&nbsp&nbsp/ 251 / 22 | 103 | 103 | 107 | None | Report |
| #2 | | 2,497,544 | 73.68% | Orbi | 484 | 890&nbsp&nbsp/ 73 / 9 | 142 | 33 | 271 | NF | Report |
| #3 | | 2,291,804 | 75.10% | TeRiRi | 441 | 890&nbsp&nbsp/ 117 / 27 | 163 | 23 | 209 | EZ | Report |
| #4 | | 2,271,351 | 76.52% | nasobol90 | 435 | 907&nbsp&nbsp/ 129 / 7 | 135 | 40 | 200 | NF,HR | Report |
| #5 | | 2,167,047 | 76.95% | FGSky | 424 | 924&nbsp&nbsp/ 89 / 17 | 149 | 32 | 213 | NF,HD | Report |
| #6 | | 2,086,044 | 51.34% | Woey | 420 | 629&nbsp&nbsp/ 27 / 1 | 117 | 11 | 586 | NF | Report |
| #7 | | 2,082,435 | 74.87% | EbonSol | 148 | 833&nbsp&nbsp/ 274 / 38 | 110 | 86 | 98 | HD | Report |
| #8 | | 2,012,914 | 64.25% | OfficialJerk | 438 | 762&nbsp&nbsp/ 107 / 6 | 131 | 31 | 368 | NF | Report |
| #9 | | 1,940,020 | 70.51% | Maxe191 | 417 | 821&nbsp&nbsp/ 157 / 19 | 133 | 42 | 246 | NF | Report |
| #10 | | 1,938,356 | 60.85% | Crezz | 413 | 728&nbsp&nbsp/ 82 / 6 | 125 | 26 | 427 | NF,HD | Report |
| #11 | | 1,936,384 | 67.86% | _WinRAWR | 418 | 809&nbsp&nbsp/ 100 / 7 | 135 | 39 | 327 | NF | Report |
| #12 | | 1,874,452 | 67.31% | MomoHD | 402 | 803&nbsp&nbsp/ 96 / 10 | 126 | 32 | 334 | NF | Report |
| #13 | | 1,873,680 | 63.11% | peng | 419 | 735&nbsp&nbsp/ 143 / 11 | 115 | 45 | 354 | NF | Report |
| #14 | | 1,697,432 | 64.35% | Fataliis | 385 | 767&nbsp&nbsp/ 88 / 21 | 123 | 23 | 367 | NF | Report |
| #15 | | 1,649,616 | 66.16% | Rodney | 383 | 773&nbsp&nbsp/ 142 / 12 | 116 | 47 | 316 | NF | Report |
| #16 | | 1,595,024 | 65.02% | Enns | 335 | 766&nbsp&nbsp/ 124 / 5 | 118 | 42 | 348 | NF,HD,HR | Report |
| #17 | | 1,562,890 | 63.68% | Susano | 384 | 735&nbsp&nbsp/ 155 / 29 | 97 | 58 | 324 | NF | Report |
| #18 | | 1,501,802 | 58.66% | -Miso x Yunomi- | 381 | 663&nbsp&nbsp/ 188 / 21 | 96 | 57 | 371 | NF | Report |
| #19 | | 1,496,862 | 56.42% | [English Class] | 380 | 634&nbsp&nbsp/ 187 / 30 | 89 | 50 | 392 | NF | Report |
| #20 | | 1,461,072 | 84.29% | Spinner | 338 | 986&nbsp&nbsp/ 183 / 4 | 149 | 65 | 70 | HR,HT | Report |
| #21 | | 1,451,116 | 68.30% | Puro | 354 | 806&nbsp&nbsp/ 123 / 12 | 122 | 35 | 302 | NF | Report |
| #22 | | 1,388,383 | 58.26% | Husa | 331 | 683&nbsp&nbsp/ 118 / 11 | 113 | 33 | 431 | NF,HD | Report |
| #23 | | 1,367,224 | 66.01% | OskaRRRitoS | 334 | 776&nbsp&nbsp/ 124 / 19 | 121 | 38 | 324 | NF | Report |
| #24 | | 1,351,055 | 66.52% | raser1234 | 329 | 751&nbsp&nbsp/ 222 / 11 | 116 | 52 | 259 | NF,HR | Report |
| #25 | | 1,340,974 | 69.59% | Sadness | 331 | 816&nbsp&nbsp/ 140 / 14 | 119 | 40 | 273 | NF | Report |
| #26 | | 1,325,133 | 73.92% | williamchoi | 101 | 821&nbsp&nbsp/ 279 / 29 | 73 | 115 | 114 | HD,FL | Report |
| #27 | | 1,315,882 | 50.44% | Minorsonek | 330 | 568&nbsp&nbsp/ 169 / 16 | 77 | 69 | 490 | NF,HD | Report |
| #28 | | 1,295,090 | 57.72% | arqx | 341 | 656&nbsp&nbsp/ 178 / 13 | 91 | 63 | 396 | NF | Report |
| #29 | | 1,294,963 | 67.00% | -Trinity- | 327 | 755&nbsp&nbsp/ 215 / 37 | 92 | 62 | 236 | NF,HR | Report |
| #30 | | 1,294,858 | 71.47% | Elusion | 330 | 842&nbsp&nbsp/ 136 / 6 | 120 | 42 | 259 | NF | Report |
| #31 | | 1,293,220 | 54.95% | Nedsing | 342 | 638&nbsp&nbsp/ 131 / 8 | 89 | 49 | 466 | NF | Report |
| #32 | | 1,288,154 | 76.13% | badeu | 226 | 913&nbsp&nbsp/ 94 / 12 | 142 | 29 | 224 | NF | Report |
| #33 | | 1,282,458 | 64.28% | IDAN | 318 | 762&nbsp&nbsp/ 104 / 14 | 118 | 30 | 363 | NF | Report |
| #34 | | 1,261,226 | 68.65% | circle_man49 | 330 | 810&nbsp&nbsp/ 126 / 8 | 123 | 42 | 299 | NF | Report |
| #35 | | 1,248,560 | 57.19% | Jacky OuO | 328 | 659&nbsp&nbsp/ 147 / 17 | 105 | 46 | 420 | NF | Report |
| #36 | | 1,240,482 | 58.66% | Vaan | 342 | 676&nbsp&nbsp/ 149 / 21 | 93 | 48 | 397 | NF | Report |
| #37 | | 1,235,864 | 62.03% | superCreper | 334 | 706&nbsp&nbsp/ 188 / 14 | 95 | 69 | 335 | NF | Report |
| #38 | | 1,222,792 | 64.32% | TheShadowOfDark | 332 | 745&nbsp&nbsp/ 136 / 55 | 98 | 38 | 307 | NF | Report |
| #39 | | 1,205,110 | 59.01% | HeartlessF | 326 | 684&nbsp&nbsp/ 144 / 9 | 94 | 62 | 406 | NF | Report |
| #40 | | 1,204,212 | 57.84% | NekoXion | 328 | 651&nbsp&nbsp/ 193 / 22 | 70 | 61 | 377 | NF,HD,HR | Report |
| #41 | | 1,198,636 | 46.69% | rykr | 351 | 521&nbsp&nbsp/ 170 / 16 | 68 | 52 | 536 | NF | Report |
| #42 | | 1,165,986 | 54.25% | Telomere | 325 | 617&nbsp&nbsp/ 166 / 12 | 101 | 38 | 448 | NF | Report |
| #43 | | 1,159,866 | 57.55% | laroxPL | 320 | 658&nbsp&nbsp/ 166 / 12 | 93 | 57 | 407 | NF | Report |
| #44 | | 1,144,212 | 52.27% | Raiza | 328 | 573&nbsp&nbsp/ 212 / 36 | 83 | 54 | 422 | NF | Report |
| #45 | | 1,142,258 | 73.33% | Lolzep | 266 | 884&nbsp&nbsp/ 77 / 11 | 147 | 28 | 271 | NF | Report |
| #46 | | 1,137,356 | 49.68% | aquarus91 | 329 | 568&nbsp&nbsp/ 143 / 11 | 82 | 48 | 521 | NF | Report |
| #47 | | 1,130,410 | 55.77% | Gokateigo | 326 | 632&nbsp&nbsp/ 178 / 11 | 79 | 61 | 422 | NF | Report |
| #48 | | 1,114,300 | 63.64% | Marek Marucha | 221 | 757&nbsp&nbsp/ 100 / 4 | 129 | 37 | 382 | NF | Report |
| #49 | | 1,104,650 | 65.27% | haga1115 | 256 | 775&nbsp&nbsp/ 105 / 8 | 124 | 33 | 355 | NF,HD | Report |
| #50 | | 1,102,798 | 51.43% | piedalicious | 328 | 566&nbsp&nbsp/ 202 / 36 | 65 | 63 | 439 | NF | Report |