Artist:
DJ Sharpnel
Circle Size:

Approach Rate:

Title:
Pacific Girls
HP Drain:

Star Difficulty:

(14.61)
Creator:
ExGon
Accuracy:

Length:
5:16 (5:11 drain)
Source:
艦隊これくしょん
Genre:
Unspecified (Other)
BPM:
195
Tags:
combined fleet kantai collection nuclear blast js awesome bomb filez 5 nb5 otakuspeedvibe kancolle stepmania dakkychan
User Rating:
Success Rate:
Points of Failure:


(graph is accumulative, based on % at fail/retry)

9.6% (45 of 468 plays)

Submitted:
Loved:
Nov 30, 2016
Aug 6, 2018
Rating Spread:

Favourited 42 times in total

Users that love this map: GaMma765, NekoparaVR, [Nico], e0486, DakkyChan, Ruslan2H, ThanaR, Mikudesu, Morsay, Miauzgenau, Zenmetsu, YukaRei, fruit-ryuuta, ROMAMANOS, [-naniwa-], ArMa79, Yuri-, -WeabooBPF-, Sakun_Spica, Tephtunia and many more!
Options:
Modding / Discussion
This map is in a LOVED state.
As such, it will not award any pp and leaderboards may be reset by the beatmap creator.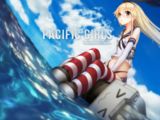 DakkyChan's CTB map.
00:00:000 - ~ 04:06:472 - : Part 1 (Stamina)
04:06:549 - ~ 05:20:395 - : Part 2 (Technique)
[224]Hyperw7 is in the lead! ()
Score
111,347,364 (98.52%)
Max Combo
1899
300 / 100 / 50
3996 / 4 / 124
Misses
58
Geki (Elite Beat!)
305
Droplet misses
4
Mods
None
Top 50 Scoreboard
| | Rank | Score | Accuracy | Player | Max Combo | 300 / 100 / 50 | Geki | Droplet Miss | Misses | Mods | |
| --- | --- | --- | --- | --- | --- | --- | --- | --- | --- | --- | --- |
| #1 | | 111,347,364 | 98.52% | [224]Hyperw7 | 1899 | 3996&nbsp&nbsp/ 4 / 124 | 305 | 4 | 58 | None | Report |
| #2 | | 45,239,708 | 97.97% | Trent | 951 | 3975&nbsp&nbsp/ 4 / 122 | 291 | 6 | 79 | None | Report |
| #3 | | 40,219,156 | 98.57% | Guillotine | 733 | 3994&nbsp&nbsp/ 4 / 128 | 291 | 0 | 60 | None | Report |
| #4 | | 26,561,062 | 97.30% | Rocma | 964 | 3948&nbsp&nbsp/ 4 / 121 | 290 | 7 | 106 | NF | Report |
| #5 | | 14,376,062 | 92.02% | LeWind | 766 | 3741&nbsp&nbsp/ 4 / 107 | 247 | 21 | 313 | NF | Report |
| #6 | | 14,236,968 | 92.83% | Deley- | 487 | 3762&nbsp&nbsp/ 4 / 120 | 233 | 8 | 292 | None | Report |
| #7 | | 9,320,616 | 92.71% | Nelly | 456 | 3759&nbsp&nbsp/ 4 / 118 | 243 | 10 | 295 | NF | Report |
| #8 | | 9,298,078 | 92.74% | Attenox | 448 | 3769&nbsp&nbsp/ 4 / 109 | 246 | 19 | 285 | NF | Report |
| #9 | | 7,923,984 | 90.42% | ItsJ0el | 391 | 3661&nbsp&nbsp/ 4 / 120 | 230 | 8 | 393 | NF | Report |
| #10 | | 7,371,590 | 92.69% | Henrick | 454 | 3756&nbsp&nbsp/ 3 / 121 | 240 | 7 | 299 | NF | Report |
| #11 | | 7,312,024 | 90.66% | [_-Kukkai-_] | 428 | 3683&nbsp&nbsp/ 4 / 108 | 223 | 20 | 371 | NF | Report |
| #12 | | 7,103,737 | 90.85% | Hana Yukiko | 286 | 3697&nbsp&nbsp/ 2 / 104 | 225 | 24 | 359 | NF,HR | Report |
| #13 | | 6,856,732 | 90.11% | [Nico] | 283 | 3652&nbsp&nbsp/ 4 / 116 | 239 | 12 | 402 | NF | Report |
| #14 | | 6,668,294 | 89.54% | Hanik | 307 | 3636&nbsp&nbsp/ 3 / 109 | 225 | 19 | 419 | NF | Report |
| #15 | | 4,463,728 | 83.09% | Fauzan 2000 | 373 | 3362&nbsp&nbsp/ 4 / 112 | 161 | 16 | 692 | NF | Report |
| #16 | | 4,315,096 | 86.22% | Zuleta_ | 192 | 3509&nbsp&nbsp/ 3 / 97 | 178 | 31 | 546 | NF,HD | Report |
| #17 | | 4,273,390 | 84.16% | ThePonite | 164 | 3410&nbsp&nbsp/ 4 / 109 | 204 | 19 | 644 | NF | Report |
| #18 | | 4,048,632 | 84.19% | HyperBomb | 218 | 3412&nbsp&nbsp/ 4 / 108 | 174 | 20 | 642 | NF | Report |
| #19 | | 3,806,620 | 84.09% | Jesus7u7 | 204 | 3398&nbsp&nbsp/ 4 / 118 | 172 | 10 | 656 | NF | Report |
| #20 | | 3,764,582 | 85.81% | aoe | 168 | 3475&nbsp&nbsp/ 4 / 113 | 186 | 15 | 579 | NF | Report |
| #21 | | 3,755,294 | 83.01% | Mwallx | 252 | 3376&nbsp&nbsp/ 2 / 97 | 157 | 31 | 680 | NF | Report |
| #22 | | 3,533,632 | 92.67% | IMMORTXLZ | 353 | 3756&nbsp&nbsp/ 4 / 119 | 251 | 9 | 298 | NF,HT | Report |
| #23 | | 3,261,386 | 80.48% | YamiSora | 171 | 3265&nbsp&nbsp/ 3 / 101 | 171 | 27 | 790 | NF | Report |
| #24 | | 3,121,066 | 80.96% | ErykGaming | 149 | 3280&nbsp&nbsp/ 4 / 105 | 151 | 23 | 774 | NF | Report |
| #25 | | 3,097,986 | 78.09% | - Lenzel - | 266 | 3177&nbsp&nbsp/ 1 / 91 | 136 | 37 | 880 | NF | Report |
| #26 | | 2,805,204 | 80.79% | Deamon | 130 | 3278&nbsp&nbsp/ 2 / 102 | 161 | 26 | 778 | NF | Report |
| #27 | | 2,611,382 | 78.38% | Uumya | 183 | 3174&nbsp&nbsp/ 4 / 103 | 136 | 25 | 880 | NF | Report |
| #28 | | 2,557,812 | 69.80% | Rawi | 283 | 2838&nbsp&nbsp/ 4 / 80 | 90 | 48 | 1216 | NF | Report |
| #29 | | 2,441,174 | 74.32% | Chufli | 197 | 3004&nbsp&nbsp/ 4 / 103 | 108 | 25 | 1050 | NF | Report |
| #30 | | 2,343,038 | 73.72% | [ Murasame ] | 158 | 2976&nbsp&nbsp/ 3 / 107 | 109 | 21 | 1079 | NF | Report |
| #31 | | 2,288,378 | 74.30% | arthurbayu | 175 | 3020&nbsp&nbsp/ 3 / 87 | 94 | 41 | 1035 | NF | Report |
| #32 | | 2,212,583 | 74.25% | [ Azu- ] | 143 | 3007&nbsp&nbsp/ 4 / 97 | 98 | 31 | 1047 | NF,HD | Report |
| #33 | | 2,188,418 | 75.01% | JeanPiero | 137 | 3042&nbsp&nbsp/ 3 / 95 | 115 | 33 | 1013 | NF | Report |
| #34 | | 1,996,330 | 68.56% | CatzerTM | 186 | 2767&nbsp&nbsp/ 2 / 101 | 85 | 27 | 1289 | NF | Report |
| #35 | | 1,775,217 | 66.56% | NicoSuke | 171 | 2693&nbsp&nbsp/ 2 / 91 | 66 | 37 | 1363 | NF,HD | Report |
| #36 | | 1,491,527 | 79.53% | Inori Yuzuhira | 157 | 3227&nbsp&nbsp/ 4 / 98 | 143 | 30 | 827 | NF,HT | Report |
| #37 | | 1,342,243 | 75.32% | Supuritto | 126 | 3054&nbsp&nbsp/ 4 / 95 | 125 | 33 | 1000 | NF,HT | Report |
| #38 | | 493,846 | 34.47% | dongju2385 | 36 | 1378&nbsp&nbsp/ 2 / 63 | 5 | 65 | 2678 | NF | Report |