Beatmap Listing » RoughSketch & Massive New Krew ft. Nanahira - Extreme Music School
Artist:
RoughSketch & Massive New Krew ft. Nanahira
Circle Size:

Approach Rate:

Title:
Extreme Music School
HP Drain:

Star Difficulty:

(9.97)
Creator:
katacheh
Accuracy:

Length:
4:40 (4:38 drain)
Source:
Genre:
Unspecified (Other)
BPM:
37
Tags:
splash!!! えくすとりーむsv kataスクール
User Rating:
Success Rate:
Points of Failure:


(graph is accumulative, based on % at fail/retry)

10.3% (54 of 522 plays)

Submitted:
Loved:
May 5, 2017
Jul 24, 2018
Rating Spread:

Favourited 24 times in total

Users that love this map: HomuraDawg, DakkyChan, Kofja, ghm12, Voltaeyx, Akyuu, janitoreihil, Bombrilho2, [def1ne], KonKonKinakoN, doublem0nk, ayomikasa, Yaminoma, Fatal3ty, Tem, Triumph, Nepoch, Fantazy, k3v227, Axer and many more!
Options:
Modding / Discussion
This map is in a LOVED state.
As such, it will not award any pp and leaderboards may be reset by the beatmap creator.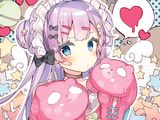 テー
ンー
ポー
をー
↗↗↗↗↗↗↗↗
↖↖↖↖↖↖↖↖
アー
ゲー
マー
スー
This map is fucking hard to pass!! Haaaaaahahahahahah
YOU CAN NEVER PASS \:D/
nope, this is easy. and taiko is easy.
1/5 Fixed Artist, Sorry...
janitoreihil is in the lead! ()
Score
2,951,422 (99.74%)
Max Combo
1394
300 / 100 / 50
2094 / 7 / 0
Misses
2
Geki (Elite Beat!)
310
Katu (Beat!)
1
Mods
None
Top 50 Scoreboard
| | Rank | Score | Accuracy | Player | Max Combo | 300 / 100 / 50 | Geki | Katu | Misses | Mods | |
| --- | --- | --- | --- | --- | --- | --- | --- | --- | --- | --- | --- |
| #1 | | 2,951,422 | 99.74% | janitoreihil | 1394 | 2094&nbsp&nbsp/ 7 / 0 | 310 | 1 | 2 | None | Report |
| #2 | | 2,744,552 | 98.74% | Tem | 1165 | 2059&nbsp&nbsp/ 35 / 0 | 244 | 1 | 9 | None | Report |
| #3 | | 2,468,110 | 95.96% | ILOVEMARISA | 1164 | 1953&nbsp&nbsp/ 130 / 0 | 19 | 0 | 20 | None | Report |
| #4 | | 2,464,076 | 96.60% | omegaflo | 561 | 1973&nbsp&nbsp/ 117 / 0 | 317 | 6 | 13 | None | Report |
| #5 | | 2,266,910 | 97.41% | Miyasan | 707 | 2008&nbsp&nbsp/ 81 / 0 | 0 | 0 | 14 | None | Report |
| #6 | | 1,513,612 | 93.37% | Ceryuia | 729 | 1889&nbsp&nbsp/ 149 / 0 | 327 | 15 | 65 | NF | Report |
| #7 | | 1,479,394 | 91.27% | ayomikasa | 707 | 1810&nbsp&nbsp/ 219 / 0 | 113 | 5 | 74 | EZ | Report |
| #8 | | 1,403,014 | 93.96% | kitafuma | 285 | 1915&nbsp&nbsp/ 122 / 0 | 249 | 15 | 66 | NF | Report |
| #9 | | 1,307,682 | 92.32% | Fantazy | 304 | 1886&nbsp&nbsp/ 111 / 0 | 211 | 4 | 106 | EZ | Report |
| #10 | | 1,162,804 | 83.29% | Ppus | 286 | 1625&nbsp&nbsp/ 253 / 0 | 296 | 35 | 225 | NF | Report |
| #11 | | 947,126 | 84.19% | Don Omar | 161 | 1658&nbsp&nbsp/ 225 / 0 | 153 | 16 | 220 | NF | Report |
| #12 | | 837,818 | 74.80% | aoe | 183 | 1370&nbsp&nbsp/ 406 / 0 | 9 | 7 | 327 | NF | Report |
| #13 | | 799,112 | 73.70% | Kaemz | 127 | 1330&nbsp&nbsp/ 440 / 0 | 206 | 27 | 333 | NF | Report |
| #14 | | 795,212 | 72.33% | ____ReFFeN____ | 114 | 1331&nbsp&nbsp/ 380 / 0 | 266 | 24 | 392 | NF | Report |
| #15 | | 773,986 | 70.85% | rhyrhy | 175 | 1304&nbsp&nbsp/ 372 / 0 | 167 | 23 | 427 | NF | Report |
| #16 | | 728,314 | 70.90% | VestaraKhai48 | 89 | 1233&nbsp&nbsp/ 516 / 0 | 171 | 32 | 354 | NF | Report |
| #17 | | 714,179 | 75.25% | Skysona | 431 | 1393&nbsp&nbsp/ 379 / 0 | 183 | 11 | 331 | NF,HT | Report |
| #18 | | 672,047 | 82.48% | hyun1 | 156 | 1595&nbsp&nbsp/ 279 / 0 | 2 | 0 | 229 | NF,HT | Report |
| #19 | | 662,781 | 74.61% | Snowyiu | 120 | 1407&nbsp&nbsp/ 324 / 0 | 123 | 13 | 372 | NF,HT | Report |
| #20 | | 547,949 | 57.70% | PortableFreak | 110 | 955&nbsp&nbsp/ 517 / 0 | 29 | 11 | 631 | NF,HT | Report |
| #21 | | 464,704 | 47.50% | ReGamed | 56 | 772&nbsp&nbsp/ 454 / 0 | 92 | 10 | 877 | NF | Report |
| #22 | | 434,027 | 42.11% | StarVictinII | 36 | 623&nbsp&nbsp/ 525 / 0 | 38 | 10 | 955 | NF,HT | Report |
| #23 | | 392,880 | 41.89% | gmdwant1st | 83 | 632&nbsp&nbsp/ 498 / 0 | 11 | 18 | 973 | NF | Report |
| #24 | | 352,104 | 33.55% | - NENEKO - | 25 | 467&nbsp&nbsp/ 477 / 0 | 165 | 90 | 1159 | NF | Report |
| #25 | | 314,902 | 34.47% | Best_lolicon | 42 | 532&nbsp&nbsp/ 386 / 0 | 33 | 19 | 1185 | NF | Report |
| #26 | | 286,292 | 30.46% | obscenist | 14 | 387&nbsp&nbsp/ 507 / 0 | 38 | 19 | 1209 | NF,EZ | Report |
| #27 | | 254,820 | 27.48% | Archer 3015 | 9 | 380&nbsp&nbsp/ 396 / 0 | 7 | 6 | 1327 | NF | Report |
| #28 | | 245,710 | 27.39% | huniro | 12 | 352&nbsp&nbsp/ 448 / 0 | 31 | 21 | 1303 | NF,EZ | Report |
| #29 | | 226,410 | 20.83% | Yemini | 16 | 280&nbsp&nbsp/ 316 / 0 | 61 | 52 | 1507 | NF | Report |