Beatmap Listing » Emmanuel Macron ft. Marine Le Pen (Khaled Freak Mix) - Poudre de Perlimpinpin
Artist:
Emmanuel Macron ft. Marine Le Pen (Khaled Freak Mix)
Circle Size:

Approach Rate:

Title:
Poudre de Perlimpinpin
HP Drain:

Star Difficulty:

(6.32)
Creator:
Usubiki
Accuracy:

Length:
0:36 (0:35 drain)
Source:
Genre:
Unspecified (Other)
BPM:
170
Tags:
-kryu- [ iweenox ] jager-kun blowy fina hino [haku] kyuukai pomroz atsuhito bakkalo val0108 ezys5 ameyy owens linada musty [
User Rating:
Success Rate:
Points of Failure:


(graph is accumulative, based on % at fail/retry)

22.7% (999 of 4392 plays)

Submitted:
Loved:
May 8, 2017
Jul 9, 2018
Rating Spread:

Favourited 224 times in total

Users that love this map: Musty, ThePooN, Purettsu Eru, GaetanRouge, Syfou, Bretoi, - Lloyd -, Dante8975, 300BPM JUMPER, itsamemarioo, QueenMina33, Ackane-, wayble, Hino, Isalie, [Haku], EpIcRaPtOr, ElektroFire, Sorega, Atsuhito and many more!
Options:
Modding / Discussion
This map is in a LOVED state.
As such, it will not award any pp and leaderboards may be reset by the beatmap creator.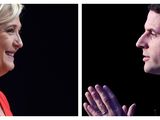 Big thanks to everyone for the GDs, it was fun seeing different mapping styles and such!
Big thanks to
Altasias
for the sharing, and thanks to his Facebook community:
https://www.facebook.com/groups/OsuFrance/
you all helped me out a lot c:
Big thanks to
val0108
,
Musty
,
Linada
and everyone really!
Thanks to
Adri
for doing most of the mania diffs
Please note that this map is not meant for ranking and it's fun only, it started out as a joke and well.. it's now a community joke that many people worked on, so good job to all.
Thanks to
Bakkalo
for the amazing GFX
Also check out Mitsuna-'s diff, I didn't add it to the mapset because of the SR (I wanted the Macron and Le Pen diff to be last diffs in STD) but I think it looks nice so have a look:
https://osu.ppy.sh/s/623372
Remember this is a game, this was all fun to make and that is the only thing that matters c:
Woey is in the lead! ()
Score
634,113 (98.85%)
Max Combo
194
300 / 100 / 50
114 / 2 / 0
Misses
0
Geki (Elite Beat!)
35
Katu (Beat!)
2
Mods
HD
Top 50 Scoreboard
| | Rank | Score | Accuracy | Player | Max Combo | 300 / 100 / 50 | Geki | Katu | Misses | Mods | |
| --- | --- | --- | --- | --- | --- | --- | --- | --- | --- | --- | --- |
| #1 | | 634,113 | 98.85% | Woey | 194 | 114&nbsp&nbsp/ 2 / 0 | 35 | 2 | 0 | HD | Report |
| #2 | | 579,410 | 96.55% | Kuroki Eri | 193 | 110&nbsp&nbsp/ 6 / 0 | 32 | 5 | 0 | None | Report |
| #3 | | 569,060 | 95.40% | itsamemarioo | 192 | 108&nbsp&nbsp/ 8 / 0 | 30 | 7 | 0 | None | Report |
| #4 | | 535,382 | 95.40% | Megure | 185 | 109&nbsp&nbsp/ 5 / 0 | 33 | 3 | 2 | None | Report |
| #5 | | 528,328 | 95.40% | Prophet | 185 | 108&nbsp&nbsp/ 8 / 0 | 31 | 6 | 0 | None | Report |
| #6 | | 528,014 | 90.09% | steen | 186 | 99&nbsp&nbsp/ 16 / 1 | 26 | 10 | 0 | None | Report |
| #7 | | 527,692 | 92.53% | Idealism | 180 | 104&nbsp&nbsp/ 10 / 0 | 27 | 8 | 2 | HD,HR | Report |
| #8 | | 502,704 | 93.68% | BAKKALO | 181 | 106&nbsp&nbsp/ 8 / 0 | 29 | 6 | 2 | None | Report |
| #9 | | 423,638 | 81.03% | Joaquin4987 | 174 | 86&nbsp&nbsp/ 23 / 2 | 17 | 15 | 5 | None | Report |
| #10 | | 410,624 | 95.11% | -Hebel- | 164 | 109&nbsp&nbsp/ 4 / 0 | 31 | 4 | 3 | None | Report |
| #11 | | 402,078 | 91.95% | Gildz | 164 | 103&nbsp&nbsp/ 11 / 0 | 25 | 10 | 2 | None | Report |
| #12 | | 401,406 | 87.36% | OsuRhythmChamp | 166 | 97&nbsp&nbsp/ 13 / 0 | 28 | 6 | 6 | None | Report |
| #13 | | 377,538 | 92.53% | cahsun | 158 | 105&nbsp&nbsp/ 7 / 0 | 28 | 6 | 4 | None | Report |
| #14 | | 356,286 | 97.13% | Reegi | 152 | 112&nbsp&nbsp/ 2 / 0 | 33 | 2 | 2 | None | Report |
| #15 | | 353,348 | 97.70% | Windshear | 143 | 113&nbsp&nbsp/ 1 / 0 | 34 | 1 | 2 | HD | Report |
| #16 | | 337,234 | 95.69% | OsuMasterDX | 143 | 109&nbsp&nbsp/ 6 / 0 | 31 | 5 | 1 | None | Report |
| #17 | | 334,100 | 86.78% | koteyka20 | 146 | 94&nbsp&nbsp/ 20 / 0 | 23 | 12 | 2 | HD | Report |
| #18 | | 332,298 | 90.95% | Skyo | 155 | 103&nbsp&nbsp/ 7 / 1 | 26 | 5 | 5 | None | Report |
| #19 | | 318,930 | 91.81% | ElektroFire | 141 | 104&nbsp&nbsp/ 7 / 1 | 26 | 6 | 4 | None | Report |
| #20 | | 316,991 | 95.98% | -Machine- | 139 | 110&nbsp&nbsp/ 4 / 0 | 32 | 3 | 2 | HD | Report |
| #21 | | 309,256 | 94.11% | Jinpe | 109 | 107&nbsp&nbsp/ 6 / 1 | 28 | 6 | 2 | None | Report |
| #22 | | 293,098 | 89.66% | iaeqb | 141 | 101&nbsp&nbsp/ 9 / 0 | 24 | 8 | 6 | None | Report |
| #23 | | 293,090 | 94.54% | RatinA0 | 132 | 107&nbsp&nbsp/ 8 / 0 | 29 | 7 | 1 | None | Report |
| #24 | | 289,794 | 90.80% | VilaZ | 136 | 101&nbsp&nbsp/ 13 / 0 | 25 | 10 | 2 | None | Report |
| #25 | | 283,414 | 95.40% | DeadZoNeD | 128 | 109&nbsp&nbsp/ 5 / 0 | 32 | 4 | 2 | None | Report |
| #26 | | 282,344 | 95.69% | Akani | 129 | 110&nbsp&nbsp/ 3 / 0 | 32 | 3 | 3 | None | Report |
| #27 | | 282,301 | 93.97% | Volcanism | 129 | 108&nbsp&nbsp/ 3 / 0 | 30 | 3 | 5 | HD | Report |
| #28 | | 278,418 | 94.25% | JustMan | 130 | 108&nbsp&nbsp/ 4 / 0 | 30 | 4 | 4 | None | Report |
| #29 | | 277,851 | 93.10% | Lilily | 131 | 105&nbsp&nbsp/ 9 / 0 | 28 | 7 | 2 | HD | Report |
| #30 | | 275,550 | 86.78% | Ariu | 140 | 95&nbsp&nbsp/ 16 / 2 | 26 | 6 | 3 | None | Report |
| #31 | | 273,179 | 88.07% | Top1NoobMyst | 131 | 98&nbsp&nbsp/ 12 / 1 | 24 | 7 | 5 | HD | Report |
| #32 | | 270,476 | 93.68% | - Vanilla - | 128 | 107&nbsp&nbsp/ 5 / 0 | 30 | 4 | 4 | None | Report |
| #33 | | 269,459 | 95.40% | respektive | 131 | 110&nbsp&nbsp/ 2 / 0 | 32 | 2 | 4 | HD | Report |
| #34 | | 269,358 | 96.26% | reshi | 130 | 111&nbsp&nbsp/ 2 / 0 | 33 | 2 | 3 | None | Report |
| #35 | | 266,694 | 90.95% | Azzira | 133 | 103&nbsp&nbsp/ 7 / 1 | 27 | 5 | 5 | None | Report |
| #36 | | 264,938 | 91.67% | Nalian | 128 | 103&nbsp&nbsp/ 10 / 0 | 27 | 7 | 3 | None | Report |
| #37 | | 264,178 | 96.55% | lain | 131 | 111&nbsp&nbsp/ 3 / 0 | 31 | 3 | 2 | None | Report |
| #38 | | 262,166 | 88.22% | Chokiis | 125 | 97&nbsp&nbsp/ 16 / 0 | 23 | 12 | 3 | HD | Report |
| #39 | | 260,280 | 88.51% | Spinner | 127 | 98&nbsp&nbsp/ 14 / 0 | 25 | 9 | 4 | None | Report |
| #40 | | 259,848 | 93.68% | Michni | 130 | 108&nbsp&nbsp/ 2 / 0 | 30 | 2 | 6 | None | Report |
| #41 | | 259,746 | 91.09% | Kamusta | 125 | 103&nbsp&nbsp/ 8 / 0 | 26 | 8 | 5 | HD | Report |
| #42 | | 257,868 | 88.51% | FeriOP | 133 | 100&nbsp&nbsp/ 7 / 2 | 28 | 4 | 7 | None | Report |
| #43 | | 255,376 | 95.40% | nasobol90 | 130 | 110&nbsp&nbsp/ 2 / 0 | 32 | 2 | 4 | None | Report |
| #44 | | 255,080 | 91.95% | Unikenl | 129 | 104&nbsp&nbsp/ 8 / 0 | 29 | 5 | 4 | None | Report |
| #45 | | 254,866 | 88.51% | arqx | 132 | 99&nbsp&nbsp/ 11 / 0 | 24 | 9 | 6 | None | Report |
| #46 | | 254,520 | 89.08% | Shikinami Asuka | 132 | 99&nbsp&nbsp/ 13 / 0 | 23 | 10 | 4 | None | Report |
| #47 | | 251,676 | 92.53% | Bartek22830 | 132 | 106&nbsp&nbsp/ 4 / 0 | 30 | 3 | 6 | None | Report |
| #48 | | 250,334 | 89.22% | benferrai | 91 | 99&nbsp&nbsp/ 13 / 1 | 24 | 9 | 3 | None | Report |
| #49 | | 249,022 | 92.24% | Lolixir | 129 | 105&nbsp&nbsp/ 6 / 0 | 26 | 6 | 5 | None | Report |
| #50 | | 248,174 | 91.52% | 001thefish | 129 | 103&nbsp&nbsp/ 9 / 1 | 28 | 6 | 3 | None | Report |