Artist:
aran
Key Amount:

Approach Rate:

Title:
Xperanza
HP Drain:

Star Difficulty:

(4.53)
Creator:
-MysticEyes
Accuracy:

Length:
2:02 (2:00 drain)
Source:
beatmania IIDX 25 CANNON BALLERS
Genre:
Unspecified (Other)
BPM:
200
Tags:
ln hybrid hardcore konami
User Rating:
Success Rate:
Points of Failure:


(graph is accumulative, based on % at fail/retry)

25.0% (189 of 756 plays)

Submitted:
Ranked:
May 28, 2018
Aug 16, 2018
Rating Spread:

Favourited 26 times in total

Users that love this map: Nyarlahothep, Pope Gadget, [Ashley], laimingyou, [Cray_, Kawawa, ppass1234, a9999124, DOMMAGEDON, Smiffi, SeungYeon, K a b i -, pOrxx, RollingQuarries, MyZterioN-, BuddYT, AnkhPH, AlexDunk, DarckoSeth, Bonnie2r and many more!
Options:
Modding / Discussion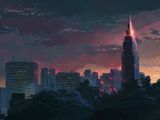 A new experience, a new life
Noodles are an important part of a balanced 4k diet.
Re-DL if downloaded before 7/21/2018!
Progress
Note: Apologies for all silly mistakes early on and constant overhauls of sections. Holy crap now that I'm modding a ton it's really, really embarrassing to look back on all the consistency issues that were modded in this map. But yeah the past 3 months have been a huge learning experience for me and I appreciate that so many people helped me with this map, especially since I knew literally no one from the mapping/modding community prior to it. It's been one hell of a summer break!
5/27/18 - All difficutlies created, 100% hitsounded
5/28/18 - Hitsounds updated
5/29/18 - Beginner/normal difficulty updated.
5/30/18
- Hitsound issues fixed for all difficulties (lots of silly mistakes on my part), consistancy issues fixed for Hyper and Extravaganza. (Note: also went back through Xtravaganza myself and cleaned up LN consistancy issues in the section after the 2nd Kiai)
5/31/18 - Patterning issues fixed for Beginner.
6/1/18
- LOTS of hitsound issues fixed, some pattern changes in Beginner, Hyper, and Xtravaganza. OD/HP updates to Beginner and Normal.
6/3/18 - Kiai time update.
6/4/18 - Kiai time update, pattern fixes, tag update, and mp3 udpate! (5 hype! woo!)
6/5/18 - Major pattern and consistancy fixes in Xtravaganza. (and a few aspects of Hyper changed as well to match concepts presented in Xtravaganza)
6/6/18 - Minor pattern and consistancy fixes in all difficulties, and 1.0 normalized SVs added to three suitable sections in Xtravaganza)
6/7/18 - Pattern fixes in Xtravaganza and hyper.
6/8/18 - Pattern changes in Normal.
6/9/18
- Consistancy fixes, SV modifications, and minor pattern fixes. Also went back to zap some anchors and restructure the handstreams before the 1st kiai section
6/10/18 - Minor pattern fixes in Hyper
6/11/18 - Pattern fixes in all difficulties
6/16/18
- General fixes to all difficulties, plus some really incredible pattern changes in Xtravaganza. And self-modded some really painiful hitsound mistakes in Xtravaganza. Preview point updated to a less awkward location
6/16/18 - P-p-p-pattern fixes (and missing notes added) in all difficulties except hyper
6/17/18 - Pattern changes in Xtravaganza (also hyper is surprisingly fun DT)
6/19/18 - Reallly useful pattern changes in Easy
6/20/18 - Hitsound volume -finally- changed to a reasonable level (100% to 40%), a lot of good changes to Normal, self-modding on all difficulties
6/21/18 - Changes to Hyper, metadata correction
6/22/18 - Bookmarks added to all difficulties
6/24/18
- Big changes and fixes to Hyper and Xtravaganza. LN section -finally- implimented at the end of Xtravaganza as well as more logical patterning applied to the 2nd kiai.
6/26/18 - Hitsounds Wars: The Final(?) Chapter (normal-clap amplified, slight corrections, overall volume increased)
6/27/18 - Small changes to Easy and Normal
7/1/18
- Huge self-modding session! 1. Histound Wars: The Secret Saga: Changed 2 hitsound names to something more intuitive (and helpful for modders/BNs). Graduated Hitsound Elementary by getting Dudehacker's Magic Copier to work (and double-checked everything with hitsound detective). 2. Finally, FINALLY took a serious look at _underjoy and tailsdk's suggestion about the first half being rather dumpy and made it WAY more logical (thanks guys, took me way too long to realize how iffy things were).
7/7/18 - Quite a bit of self modding in hyper for an overall boost in quality, fixed in error in the lower 3 difficulties where I accidently copied the SVs from Xtravaganza to them (possibly when I copied the hitsounds?) (whoops!)
7/8/18
- Hitsound difficulty finally added for maximum convenience
7/13/18 - Small pattern updates to Easy and Normal
7/14/18 - Claps have been reunited with their beloved Whistles in the three kiais (and copied over from the Hitsound difficulty to all other difficulties)
7/17/18 - The tiniest of tiny fixes. Just got rid of an unneeded 4 note anchor by moving 2 notes in Xtravaganza
7/20/18 - 2 unsnapped notes in Xtravaganza re-snapped
7/21/18 - New hitsound sample added, normal-hitnormal replaced with something more innocuous.
7/23/18 - Hyper's patterns updated (everything looks a lot nicer in general in that diff too)
7/24/18 - Deleted hitsound diff
7/26/18 - Huge LN pattern changes in Xtravaganza
7/29/18
- Bubbled!
8/3/18
- self-popped to apply error_exe777's mod
8/4/18
- Re-bubbled!
8/5/18
- self-popped to apply minor mod and lightning re-bubble!
8/6/18
- Qualified, later DQed due to snapping issues, and snapping issues fixed (along with deleting a note for playability in Xtrav and Hyper)
8/7/18
- Re-bubbled!
8/9/18
- Re-qualified!
Special thanks to:
tailsdk
FAMoss
AnkhPH
- Aries -
[Ashley]
ChinoAnGel
Mage
Gravey
Wadu
Larc
newbandpro
_Stan
Carol
BringoBrango
Kyousukee
RJR-sama
KeppSado
Pope Gadget
abraker
keziah
chouyaa
_underjoy
Alternater
Helicosaurus
-Classy
K a b i -
Cokiiplay
Unpredictable
Dudehacker
Garalulu
error_exe777
ThinkingMan is in the lead! ()
Score
996,846 (100.00%)
Max Combo
2019
MAX / 300 / 200
1354 / 152 / 0
100 / 50 / Misses
0 / 0 / 0
Mods
None
Top 50 Scoreboard
Rank
Score
Accuracy
Player
Max Combo
MAX
300
200
100
50
Miss
Mods
#1
996,846
100.00%
ThinkingMan
2019
1354
152
0
0
0
0
None
Report
#2
996,846
100.00%
R e t u r n
2008
1354
152
0
0
0
0
None
Report
#3
995,290
100.00%
ATing
1994
1279
227
0
0
0
0
None
Report
#4
995,227
100.00%
xSnaggles
1996
1276
230
0
0
0
0
None
Report
#5
993,695
99.91%
decomposition
1990
1260
242
4
0
0
0
None
Report
#6
993,114
99.89%
2rrrr
2013
1248
253
5
0
0
0
None
Report
#7
992,783
99.91%
MyZterioN-
1996
1217
285
4
0
0
0
None
Report
#8
992,419
99.91%
Juan De La 25
2027
1199
303
4
0
0
0
None
Report
#9
991,973
99.82%
GoldenJumper
2006
1238
260
8
0
0
0
None
Report
#10
991,249
99.87%
pikechu
1978
1175
325
6
0
0
0
None
Report
#11
991,030
99.80%
Obligerator
2017
1213
284
9
0
0
0
None
Report
#12
990,019
99.76%
ExNeko
2012
1196
300
9
1
0
0
SD
Report
#13
989,940
99.76%
C Eru
2033
1189
306
11
0
0
0
None
Report
#14
989,627
99.71%
sukmskin
2015
1197
296
13
0
0
0
None
Report
#15
989,566
99.78%
Awesome_number2
2007
1156
340
10
0
0
0
None
Report
#16
987,766
99.82%
COFFEE_MIX
1544
1307
193
5
0
0
1
None
Report
#17
987,176
99.73%
Raveille
1975
1087
407
12
0
0
0
None
Report
#18
986,619
99.67%
Rio1-
1999
1097
394
15
0
0
0
None
Report
#19
986,270
99.65%
2Vipsss
2005
1110
381
14
1
0
0
None
Report
#20
984,897
99.51%
CowlScatman
1147
1113
372
20
1
0
0
None
Report
#21
984,048
99.58%
zero2snow
2017
1074
413
19
0
0
0
None
Report
#22
983,630
99.54%
JYIN
2002
1045
440
21
0
0
0
None
Report
#23
977,647
99.47%
Kabier
1020
1111
375
17
2
0
1
None
Report
#24
972,411
99.54%
Saerdna
997
1136
354
13
1
0
2
None
Report
#25
970,376
99.00%
nachopancho
2021
1007
462
30
5
2
0
None
Report
#26
969,944
99.05%
Mentai Cosmic
2045
829
637
38
0
2
0
None
Report
#27
967,149
98.89%
MkoTenshi
1648
1067
400
32
2
2
3
None
Report
#28
962,815
98.98%
Yamineko123
1411
939
527
35
3
2
0
None
Report
#29
962,147
98.96%
Dongkuri
1268
1015
450
37
2
0
2
None
Report
#30
961,191
98.67%
Wixdom
1985
915
536
50
5
0
0
None
Report
#31
960,749
99.18%
w a d u
1114
1003
471
29
1
0
2
None
Report
#32
960,541
98.45%
goodcat1303
1170
894
547
60
5
0
0
None
Report
#33
959,025
98.94%
goney02
1273
853
609
42
0
0
2
None
Report
#34
955,278
98.75%
toki334
958
932
526
42
3
1
2
None
Report
#35
953,215
98.83%
TerranTT
896
900
557
47
0
0
2
None
Report
#36
948,640
98.74%
Tr1pleSw4gX
1168
980
479
40
4
0
3
None
Report
#37
943,568
98.28%
qwe2312822
1108
886
547
70
1
1
1
None
Report
#38
943,436
98.34%
Hendy Saputra
724
869
577
48
9
0
3
None
Report
#39
942,734
98.16%
LorDxFrown
1429
716
712
74
3
0
1
None
Report
#40
941,156
98.63%
ghh3232
710
918
534
50
0
0
4
None
Report
#41
939,077
98.72%
Cannu
892
955
505
39
1
2
4
None
Report
#42
937,824
98.19%
X_Devil
796
911
518
74
1
0
2
None
Report
#43
936,209
98.49%
Tensai-
1102
918
529
53
3
0
3
None
Report
#44
932,702
97.91%
Naihoby
1183
889
534
74
6
1
2
None
Report
#45
927,779
98.85%
ShaTR
487
1152
320
23
4
0
7
None
Report
#46
922,944
98.35%
Triksu
1139
978
473
41
7
3
4
None
Report
#47
921,803
98.03%
NoComment -
807
931
509
49
10
2
5
None
Report
#48
921,729
97.24%
amway0221
1087
816
577
105
4
1
3
None
Report
#49
919,720
98.22%
Bonnie2r
480
1054
391
47
8
1
5
None
Report
#50
917,475
97.65%
Kazol
1128
919
504
66
10
2
5
None
Report