Beatmap Listing » PinocchioP - I'm glad you're evil too
Artist:
PinocchioP
Circle Size:

Approach Rate:

Title:
I'm glad you're evil too
HP Drain:

Star Difficulty:

(3.20)
Creator:
JarvisGaming
Accuracy:

Length:
6:21 (6:11 drain)
Source:
Genre:
Novelty (Japanese)
BPM:
88
Tags:
hatsune miku 初音ミク hatsune_miku vocaloid ボーカロイド yuma saito kimi mo warui hito de yokatta im youre
User Rating:
Success Rate:
Points of Failure:


(graph is accumulative, based on % at fail/retry)

8.7% (99 of 1143 plays)

Submitted:
Ranked:
Jun 9, 2018
Aug 10, 2018
Rating Spread:

Favourited 18 times in total

Users that love this map: Bombrilho2, Brames, [DubstepBoy], JAFL, worst player, Exclusives, Drzwiczki, papaer, Akali393394, joaovitor23, SuperJSpectrixV, [ uwizumi ], LemmieLoo, MoNk62, Mar_rep, chung_28, newbeefirsttime, ImD3nnis
Options:
Modding / Discussion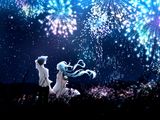 #1 Rank
Note: Last kiai contains 1/8 patterns, recommended for players who can play (simple) Oni diff and above.
Thank you to all the modders and playtesters!
Timing and metadata is taken from Monstrata's map:
https://osu.ppy.sh/b/1301658
Modders
Axer
iloveyou4ever
Yales
mintong89
Alwaysyukaz
Deathwing1306
Faputa
ASPIRIN
FlamingRok
Oui
-Sh1n1-
chaica
KyouRekii87
Kbludoh
_DUSK_
Scioness
Playtesters
Brames
MetalStream
Rhytoly
Faputa
16/8/2018: 1,000 plays! Thank you for all the support!
Life Hack: Play this on HT to fall asleep
sing216 is in the lead! ()
Score
1,579,930 (100.00%)
Max Combo
1150
300 / 100 / 50
1150 / 0 / 0
Misses
0
Geki (Elite Beat!)
19
Katu (Beat!)
0
Mods
HR,DT
Top 50 Scoreboard
| | Rank | Score | Accuracy | Player | Max Combo | 300 / 100 / 50 | Geki | Katu | Misses | Mods | |
| --- | --- | --- | --- | --- | --- | --- | --- | --- | --- | --- | --- |
| #1 | | 1,579,930 | 100.00% | sing216 | 1150 | 1150&nbsp&nbsp/ 0 / 0 | 19 | 0 | 0 | HR,DT | Report |
| #2 | | 1,579,930 | 100.00% | shinchikuhome | 1150 | 1150&nbsp&nbsp/ 0 / 0 | 24 | 0 | 0 | HR,DT | Report |
| #3 | | 1,562,373 | 99.04% | KyouRekii87 | 1150 | 1128&nbsp&nbsp/ 22 / 0 | 30 | 1 | 0 | HR,DT | Report |
| #4 | | 1,484,260 | 98.04% | iloveyou4ever | 659 | 1108&nbsp&nbsp/ 39 / 0 | 29 | 4 | 3 | HR,DT | Report |
| #5 | | 1,463,580 | 100.00% | kevin3333g | 1150 | 1150&nbsp&nbsp/ 0 / 0 | 54 | 0 | 0 | HR | Report |
| #6 | | 1,463,580 | 100.00% | Leralice | 1150 | 1150&nbsp&nbsp/ 0 / 0 | 21 | 0 | 0 | HR | Report |
| #7 | | 1,459,932 | 99.78% | Faputa | 1150 | 1145&nbsp&nbsp/ 5 / 0 | 0 | 0 | 0 | HR | Report |
| #8 | | 1,453,962 | 99.26% | Kaemz | 1150 | 1133&nbsp&nbsp/ 17 / 0 | 36 | 0 | 0 | HR | Report |
| #9 | | 1,450,908 | 99.65% | [ uwizumi ] | 1150 | 1142&nbsp&nbsp/ 8 / 0 | 38 | 0 | 0 | HR,SD | Report |
| #10 | | 1,449,426 | 99.22% | uchuuj1n | 1150 | 1132&nbsp&nbsp/ 18 / 0 | 52 | 0 | 0 | HR | Report |
| #11 | | 1,440,930 | 98.43% | brein62 | 1150 | 1114&nbsp&nbsp/ 36 / 0 | 38 | 1 | 0 | HR | Report |
| #12 | | 1,438,800 | 98.35% | Serpens | 1150 | 1112&nbsp&nbsp/ 38 / 0 | 1 | 0 | 0 | HR | Report |
| #13 | | 1,436,484 | 98.30% | Akali393394 | 1150 | 1111&nbsp&nbsp/ 39 / 0 | 0 | 1 | 0 | HR | Report |
| #14 | | 1,435,536 | 98.35% | Skysona | 1150 | 1112&nbsp&nbsp/ 38 / 0 | 35 | 0 | 0 | HR | Report |
| #15 | | 1,434,282 | 97.87% | ds_naris | 1150 | 1101&nbsp&nbsp/ 49 / 0 | 51 | 3 | 0 | HR,SD | Report |
| #16 | | 1,416,780 | 97.74% | aikiakina | 1150 | 1098&nbsp&nbsp/ 52 / 0 | 30 | 0 | 0 | HR | Report |
| #17 | | 1,403,232 | 97.30% | Meldy Chan | 1150 | 1088&nbsp&nbsp/ 62 / 0 | 28 | 1 | 0 | HR | Report |
| #18 | | 1,400,660 | 99.39% | Cuppedcake | 1150 | 1136&nbsp&nbsp/ 14 / 0 | 5 | 0 | 0 | None | Report |
| #19 | | 1,393,400 | 99.13% | -guren- | 1150 | 1130&nbsp&nbsp/ 20 / 0 | 36 | 1 | 0 | None | Report |
| #20 | | 1,392,400 | 98.96% | Tess | 904 | 1127&nbsp&nbsp/ 22 / 0 | 35 | 1 | 1 | HR | Report |
| #21 | | 1,391,166 | 98.30% | Bombrilho | 1149 | 1112&nbsp&nbsp/ 37 / 0 | 0 | 0 | 1 | HR | Report |
| #22 | | 1,388,520 | 98.61% | amtyun | 1150 | 1118&nbsp&nbsp/ 32 / 0 | 43 | 2 | 0 | None | Report |
| #23 | | 1,371,678 | 98.09% | Tonton Sammi | 879 | 1108&nbsp&nbsp/ 40 / 0 | 39 | 1 | 2 | HR | Report |
| #24 | | 1,338,418 | 96.65% | tatsu5558 | 1052 | 1074&nbsp&nbsp/ 75 / 0 | 24 | 1 | 1 | HR | Report |
| #25 | | 1,297,445 | 97.83% | Lililune | 928 | 1106&nbsp&nbsp/ 38 / 0 | 31 | 0 | 6 | HR | Report |
| #26 | | 1,295,901 | 95.61% | Tavolino | 607 | 1051&nbsp&nbsp/ 97 / 0 | 11 | 1 | 2 | HR | Report |
| #27 | | 1,287,174 | 98.96% | mulraf | 982 | 1128&nbsp&nbsp/ 20 / 0 | 5 | 0 | 2 | None | Report |
| #28 | | 1,281,508 | 95.17% | white-bob | 977 | 1040&nbsp&nbsp/ 109 / 0 | 2 | 0 | 1 | None | Report |
| #29 | | 1,262,374 | 95.61% | Super2999 | 939 | 1055&nbsp&nbsp/ 89 / 0 | 1 | 1 | 6 | HR | Report |
| #30 | | 1,244,554 | 96.17% | GirlPhantomhive | 692 | 1064&nbsp&nbsp/ 84 / 0 | 18 | 0 | 2 | None | Report |
| #31 | | 1,183,802 | 96.17% | Aruminia | 629 | 1067&nbsp&nbsp/ 78 / 0 | 28 | 0 | 5 | None | Report |
| #32 | | 1,153,448 | 96.48% | ujinnokelokule | 659 | 1076&nbsp&nbsp/ 67 / 0 | 6 | 0 | 7 | None | Report |
| #33 | | 1,151,830 | 96.83% | Hoterushoteru | 820 | 1088&nbsp&nbsp/ 51 / 0 | 7 | 1 | 11 | None | Report |
| #34 | | 1,128,674 | 96.96% | Linkus | 743 | 1096&nbsp&nbsp/ 38 / 0 | 21 | 1 | 16 | None | Report |
| #35 | | 1,117,976 | 97.00% | -Rmdy | 547 | 1093&nbsp&nbsp/ 45 / 0 | 11 | 1 | 12 | None | Report |
| #36 | | 1,105,910 | 95.78% | guswhd7077 | 661 | 1057&nbsp&nbsp/ 89 / 0 | 0 | 0 | 4 | None | Report |
| #37 | | 1,097,538 | 95.13% | hikka2k | 743 | 1051&nbsp&nbsp/ 86 / 0 | 14 | 1 | 13 | HR | Report |
| #38 | | 1,096,024 | 94.30% | CharuIs | 741 | 1035&nbsp&nbsp/ 99 / 0 | 14 | 0 | 16 | None | Report |
| #39 | | 1,078,672 | 95.39% | tutiflo | 542 | 1062&nbsp&nbsp/ 70 / 0 | 15 | 4 | 18 | None | Report |
| #40 | | 1,070,086 | 94.30% | ni3wiemxd | 726 | 1044&nbsp&nbsp/ 81 / 0 | 7 | 0 | 25 | None | Report |
| #41 | | 1,069,418 | 93.65% | -ChibiAkiko- | 543 | 1017&nbsp&nbsp/ 120 / 0 | 23 | 5 | 13 | None | Report |
| #42 | | 1,063,550 | 94.78% | sunchiplord | 394 | 1051&nbsp&nbsp/ 78 / 0 | 5 | 1 | 21 | None | Report |
| #43 | | 1,034,074 | 93.04% | jason89604 | 330 | 1000&nbsp&nbsp/ 140 / 0 | 13 | 2 | 10 | None | Report |
| #44 | | 992,030 | 91.61% | GITGUD | 403 | 972&nbsp&nbsp/ 163 / 0 | 32 | 1 | 15 | None | Report |
| #45 | | 989,835 | 91.22% | ffviizack | 367 | 973&nbsp&nbsp/ 152 / 0 | 0 | 0 | 25 | HR | Report |
| #46 | | 984,138 | 94.48% | mabel | 540 | 1054&nbsp&nbsp/ 65 / 0 | 11 | 1 | 31 | None | Report |
| #47 | | 982,518 | 92.22% | MrRebornII | 605 | 996&nbsp&nbsp/ 129 / 0 | 10 | 1 | 25 | None | Report |
| #48 | | 981,166 | 93.26% | DaRKMaRoWaK | 707 | 1025&nbsp&nbsp/ 95 / 0 | 13 | 3 | 30 | None | Report |
| #49 | | 973,702 | 93.61% | c41125 | 639 | 1024&nbsp&nbsp/ 105 / 0 | 39 | 4 | 21 | None | Report |
| #50 | | 970,898 | 88.26% | JarvisGaming | 270 | 894&nbsp&nbsp/ 242 / 0 | 0 | 1 | 14 | HR,DT | Report |